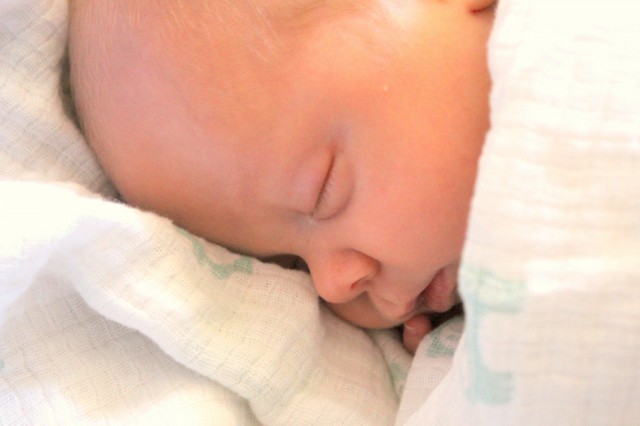 Having a preemie is a special kind of blessing. That Roux came to me as early as he did meant that, right from the beginning, we were starting from a different place. The first several days of his life were filled with so many questions and so much pain, and every week since has been a little less uncertain and a little more relaxed. Of all the things I have done, surviving those first two months of my tiny guy's life was by far the most challenging. A baby born before it has fully developed is not the same as a baby born at term, and I will never forget how small and fragile he was the first time I held him, 36 hours after his birth.
Ten weeks later, and suddenly my preemie has grown into a baby. A squishy little person, all bright eyed and gurgly. He's chubbed up quite nicely, and to us he seems so much bigger than he was – because he is so much bigger than he was! He has more than doubled his birthweight, weighing just about nine pounds, and fits nicely into his newborn clothes. What's most exciting, though, is that on his seventieth day on Earth, he woke up.
HIGH: On Monday, Roux smiled at me, really smiled at me, for the first time in his life. It made me weep, from such a precious place that only a brand new mother holding her newborn infant can access, and I will always remember this as the moment my Roux Huckleberry met me. He has given me the same wide mouthed grin every day since, each time another tug on my heartstrings. I am so glad he's here.
LOW: Extended Family Drama. Honestly, it is instances like these that make me overwhelmingly grateful for my sweet nuclear family and our lovely life, remarkably free from familial obligation and other such cumbersome attachments.
THANKFUL: Not to brag or anything, but my baby is sleeping through the night more often than not. He goes to bed between 8:30 and 9 each evening, and wakes up once between 2-4 AM, or not at all. The pediatrician was so impressed with his mature sleeping patterns as well as his substantial weight gain, and gave us a very positive prognosis. We were given quite a scare during those first few weeks, and being clear of most of what was presented to us is nothing short of a miracle. All babies are miracles, life is a miracle, but this tiny guy is my miracle. I'm just so, so grateful and I'm not sure that I ever won't be grateful for how well he overcame his birth.
I, on the other hand, have a lot of healing to do. But knowing that my tiny guy is developing well is an invitation to turn my energy toward my own recovery.