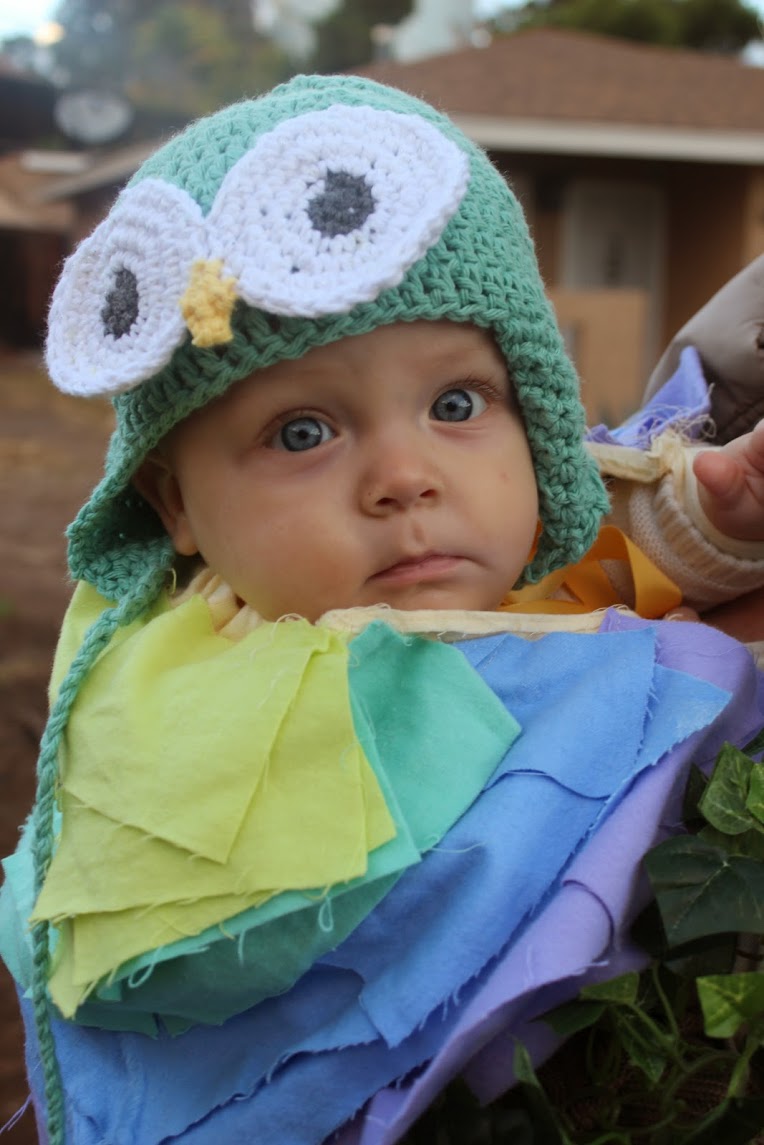 my little owl on halloween
This time last year is still so vivid to me, the way it felt to have a baby in my belly and the anticipation of what it would be like to have a new little person join our family.
On Monday, that little person, one Roux Huckleberry Baker, turned precisely 39 weeks old. 9 whole calendar months, exactly. And as cozy as it was to be pregnant during the Holiday Season, it is that much more delicious to have a squishy baby with whom to enjoy all the festivities. Especially a baby as magnificent as my tiny guy.
Practically overnight, he had a massive growth spurt. He woke up one morning last week and actually fit into onesies I didn't think he'd wear until well after his first birthday. And the scooching! All of the sudden, he's everywhere. Under the couch, next to the ironing board (the iron wasn't on, but still!), one minute he's playing happily under his gym and the next he's all the way wedged between my desk and a basket of silks. I have a lot of baby proofing to do!
We have experimented with Baby Led Weaning, which is both fascinating and terrifying. On the one hand, it makes complete sense to me, and on the other hand, it's challenging and risky. While I have been really pleased with the success we've had with foods like broccoli and sweet potato and even these little baked lentil quinoa cakes, a small hemoglobin test at yesterday's check up showed that Huckle is rather anemic. We're introducing fortified cereals and a liquid supplement with the hope such remedies will increase the iron in his blood.
To think this is the only hiccup we've encountered since his birth is a reminder how blessed we have been. He really has come so far. And he is so darn cute, it's almost silly. On Saturday mornings, I've been taking tap classes in Balboa Park. I wear Roux in my Solly Baby wrap, easily one of the highlights of my week, and oh how the sweet old ladies in my class adore him! They kiss his sweet cheeks and fawn over him and all I can think is how lucky I am that this incredible creature chose me to be his mama.
Our days begin well before the sun rises, my Huckle likes to get up early. Once I resigned myself to our predawn routine, I came to cherish those quiet hours when nearly everything is still asleep except us two. We keep all the lights off and snuggle under covers on the couch, babbling to each other before I have to begin my duties for the day. As much as I love my job, and am grateful to have work that is fulfilling and meaningful, it's getting harder and harder for me to head off to work each morning, feeling like I'm missing out on so many little moments that I can never get back.
Time is passing by faster than ever, we're heading into the part of year that seems to happen at warp speed, and all I want to do is stop here for a little while. Be with my baby before he's not a baby anymore, to enjoy my home and my family and this season. To somehow remember all the tiny details – the nuances of his voice and the myriad of sounds that are beginning to emerge, to capture exactly the way it feels when his eager little fingers reach up to explore the landscape of my face, the way he smiles at me when he nurses – because honestly, it's as if it's all happened in an instant. And yet, as I plan next week's menu, I know it's been a year, a whole entire year, since I prepared a feast in my kitchen with a bump tucked under my apron.
I'm going to try my best to take it slow this season, to live in to each experience, to treasure the time and marvel at just how bittersweet its fleeting can be.