I'm going to be come right out and say it, the second month was hard. Weeks on end of irregular and interrupted sleep wreaked havoc on my nervous system, and it manifested as good old fashioned anxiety with a smattering of depression. Also, high blood pressure and I never have high blood pressure. Except for that one time during labor, and this is where I tell you that the birth story, and all of its gory – literally, gory – details, is forthcoming, but that it might take me a while. I mean, it only took me ten years to write the story of my first birth! But I digress!
Week Seven just about knocked me flat on my back, and I spent all day, every day in bed. This baby of mine, he needs me. Needs me in a way my other two never really did, those two have always been so independent and extroverted. Not this baby. He wants to be held all of the time, and eat all of the time, and to quietly observe our family while perched upon either his father's shoulder, or mine. He missed out on an entire month of time in utero, it makes perfect sense as to why he wants to spend so much time snuggled up to one of us, but that doesn't make it any easier. It does, however, make it necessary, which is why I had to make the difficult decision to extend my maternity leave until the Fall.
Ugh! The guilt! Once I finally accepted that as much as I want to, I can't actually do everything – including being a handwork teacher while carrying an infant – I got a little bit excited about getting to spend these next few months at home.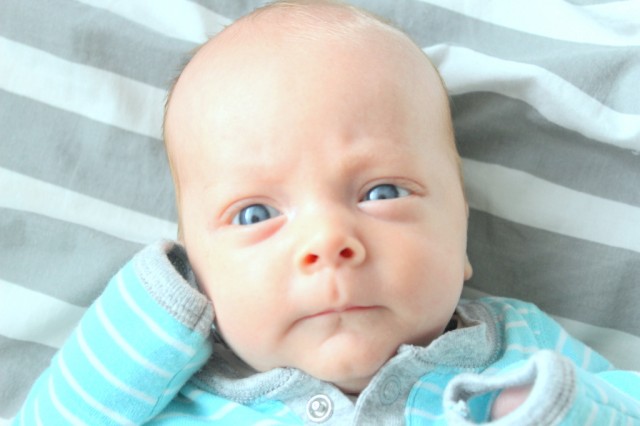 This tiny guy, well, he's not so tiny these days. In fact, he officially grown out of his preemie clothes and is fitting nicely into the newborn size. We've used an Honest Co. diaper bundle this last month, and we're going to continue for another month, but in the next size up. And because he's eating and growing as well as he is, we're actually starting to get a little sleep around here, about four to five solid hours at least once a night. Life changing.
He's still not the most interested in people or things, but he has started to discover his voice and the sounds he makes are a cross between Gizmo, deflating balloons, and choirs of angels. Just perfect.
Adjusting to life with a new baby is accepting that everything is in constant transition, this is as true for the first time as it is for the third. There are just more variables, like school days and baseball practice, which only add to the chaos. But it's all chaos, so what's the difference? We're figuring it out as we go, one day at a time, and so far, we're doing pretty darn well. We hit the ground sprinting, and are just starting to find a more comfortable pace.
Oh Huckle, my Huckle! I knew you were going to be a cute baby, but the cutest baby? You are the spitting image of your father when he was a baby, and aren't you lucky because he is one handsome fellow. In the night, when you are hungry, you whimper so sweetly that I can't help but be happy to scoop you up into my arms and give you milk, your favorite thing on Earth. I'm lucky to be the one who gets to nourish and sustain you, and those moments are some of my most favorite. You have made the most perfect addition to our family, even better than the bunny I wanted. I mean, I still want the bunny, but now the bunny will be for you! When we get the bunny, that is. Maybe next Easter, wink wink?