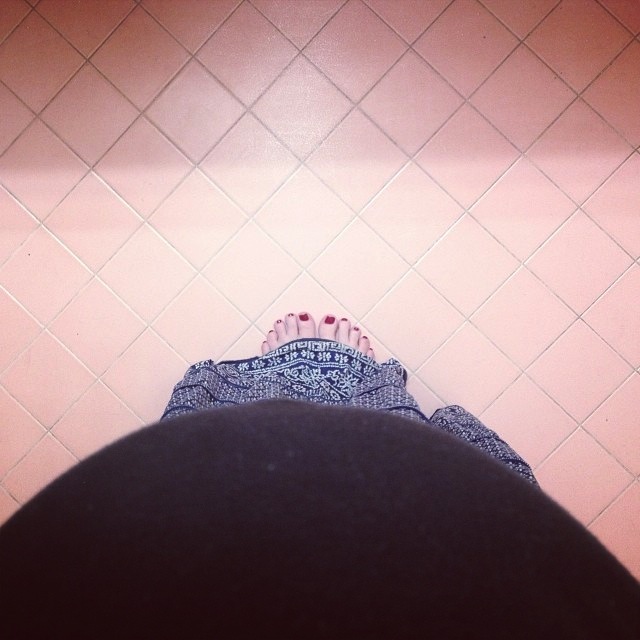 27 Week Belly Shot, 12/18/13
I was describing my general state of being to my doula/dear friend/cherished colleague Amanda earlier this week, and she joked that it sounded as if I were still in my first trimester. And it's true! I'm easily nauseated, overwhelmingly exhausted, and unexplainably emotional. To be honest, that's kind of how it's been this whole entire pregnancy. Actually, all of my pregnancies have been like this. Despite the physical similarities, however, this one has been a completely different experience.
From the beginning, I have approached this pregnancy with new perspective. I've had a long time to reflect upon my previous two deliveries, and decided a while ago that if ever given the opportunity to bring another life into the world, I'd do so outside the traditional medical system. My reasons for this are many, and perhaps one day I'll actually get around to writing about how and why we made this choice, but for now I will simply suggest The Business of Being Born as a great documentary on the subject of hospital versus home birth.
Through this process of allowing pregnancy to happen without hardly any intervention, I have become more trusting and confident in my own body and its inherent ability to grow, birth, and sustain a baby. Because we haven't had any ultrasounds, we rely entirely on heartbeat and movement to monitor the growth of the baby. As such, I find that I am much more in tune with all the various bumps and nudges in my belly. Quite a bouncy little thing, this baby, and I absolutely love it.
We have decided to wait until the birth to find out whether the baby is a boy or a girl, and I can't even begin to tell you how fun not knowing is turning out to be. Our family has bonded together in the sweetest way as we eagerly await the arrival of our newest member, and I've managed to fall in love all over again with each of these radiant souls I'm blessed to share my life with.
With just a few days left until Christmas, our house is buzzing with preparations for our simple celebration. The kids have been hard at work all month long, handcrafting and carefully wrapping no less than two dozen presents, all of which have been placed with care under our tree. My fingers are busy stitching up some last minute gifts, and there is baking to be done and movies to be watched. And a proper Christmas feast to be made, my favorite.
This is a really, really special time in my life. I have always loved this season, and to think that next year we'll have a new little person to celebrate with is just about the best gift I have ever been given.